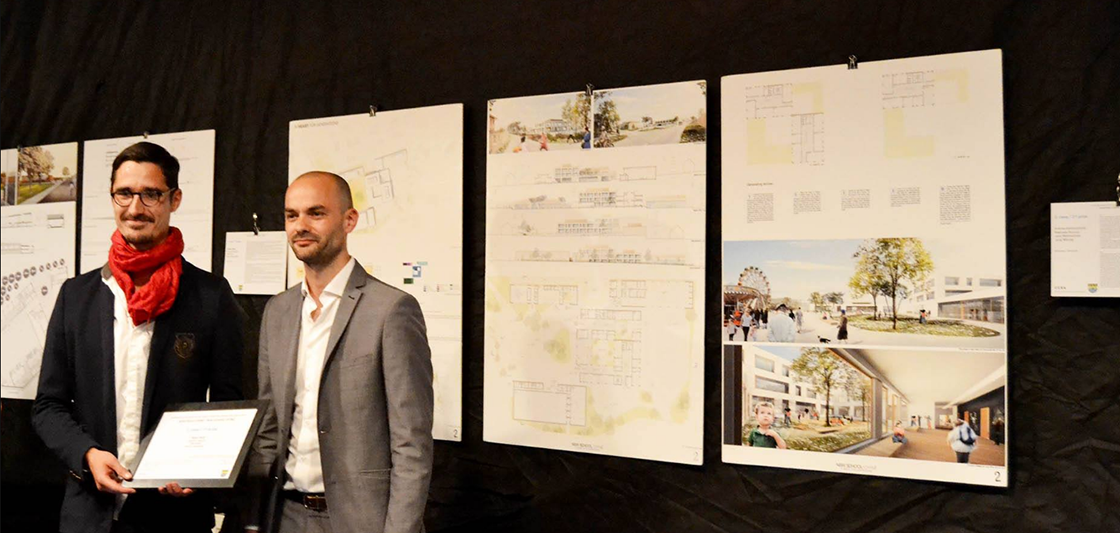 20 Mai

Winner Project: New School Chýne

1st price of the international architectural design competition New School Chýne, for the construction of 5537 m² including urban and landscape design, 3 schools: the preparatory class (age 5-6), 1st (age 6-11) and 2nd (age 11-15) stage, 2 gymnasiums, an auditorium and a library plus an option for a 1160 m² swimming pool and auxiliary services.

The project convinces the Jury in all competition criteria: in its overall urban setting, its architectural quality, its functional and programmatic clarity and smartness as well as in its economic use of surface area and thoughtful architectural setting regarding ecological issues.
The building complex is well connected to the logical access route from the town centre via the linear Viš?ovka park, which is extended to a town plaza as a grand ending point.
The town plaza is the public, openly accessible core of the new development, which is at once a well-programmed community centre and the front plaza to an innovative school.
The communal areas such as the hall and the canteen as well as the sports facilities are located to the North and South of the new plaza, the school is located to the East, with the library in the centre of the public plaza; there are two separate entrances for both schools: the 1st stage school and the 2nd stage school. The community centre and the school can work in synergy as well as separate.
The school is outstanding in its relationship of indoor and outdoor space: right after both school entrances there is an immediate connection to a courtyard, which can be used as outdoor learning space. The 2nd Stage school is directed to the sports field in the East, while the 1st Stage school has a more intimate but spacious garden to the South, yet all outdoor spaces are connected.
The cluster organization allows for different educational systems and good orientation in the schools.
Overall the scale of the proposal, its sensitivity to the needs of the town, as well as the location of the possible addition of the swimming pool will enrich the social and school life in Chýn?.